History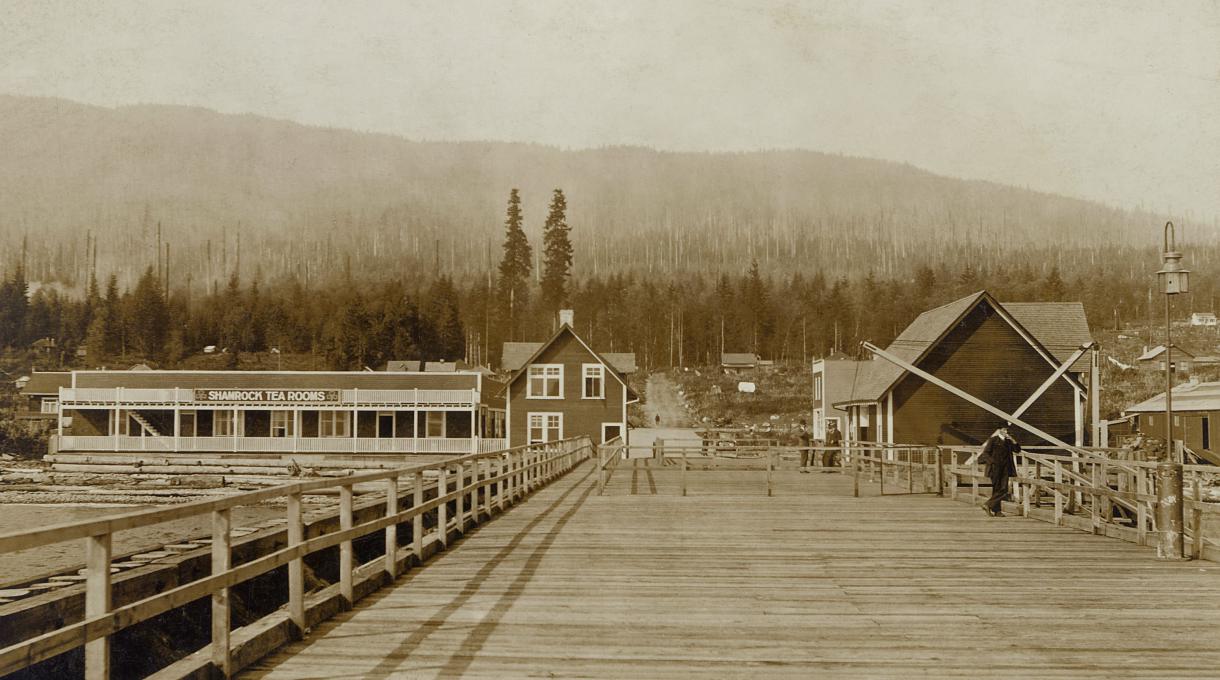 A century of history
The Ferry Building has been at the centre of life in West Vancouver for more than 100 years. From its beginning as a bustling ferry terminal to its present use as an art gallery, this heritage building has always been important to our community. 
In the early 1900s, West Vancouver was home to the Skwxwú7mesh Úxwumixw (Squamish People, villages and community) and was a summer holiday spot for Vancouver residents. Lions Gate Bridge hadn't been built yet and a ferry began to transport people between downtown Vancouver and Ambleside to encourage more people to move to West Van permanently.
The ferries, which were owned by pioneer John Lawson, carried thousands of passengers across Burrard Inlet each year. The newly incorporated Municipality of West Vancouver soon bought the fleet and added six more ferries.
In 1913, the Ferry Building was built at the foot of 14th Street. The new building provided a place to buy tickets and a waiting room where passengers chatted and stayed warm around a potbelly stove. 
Small businesses began to open around the Ferry Building. The Shamrock Tea Rooms, Pierre Paris Shoes, a confectionery store and a second-hand emporium were popular spots that attracted visitors to the area.
But the days of socializing around the ferry dock came to an end when Lions Gate Bridge opened in 1939 and the number of people using the ferry service began to dwindle.
When the ferries stopped sailing, the West Vancouver Bus Company (now West Vancouver Transit, known as Blue Bus) took over the Ferry Building for its head office and built a bus depot nearby. The fleet consisted of 23 buses and several specially designed buses that were mounted on army truck frames to take skiers up the mountain. The Blue Bus fleet yard moved to Lloyd Avenue in North Vancouver in 1986.
Arts and culture hub
The Ferry Building was given heritage designation in 1987 to acknowledge its long and influential history in West Vancouver. The building was transformed into a public art gallery two years later.
Today, the Ferry Building Gallery is an arts and culture centre at the heart of Ambleside Landing. The gallery's exhibitions and programs are integral to the character of West Vancouver.
The gallery provides North Shore artists with high visibility and promotes art education through a wide range of events and programs, including the annual Harmony Arts Festival, which attracts local and international visitors and artists.
The Ferry Building Gallery operates with the support of 60-plus dedicated volunteers.
We want to acknowledge that the Ferry Building Gallery is on the traditional, ancestral and unceded territory of the Squamish Nation, Tsleil-Waututh Nation and Musqueam Nation. We recognize and respect them as nations in this territory, as well as their historic connection to the lands and waters around us since time immemorial.