Annual Call for Entry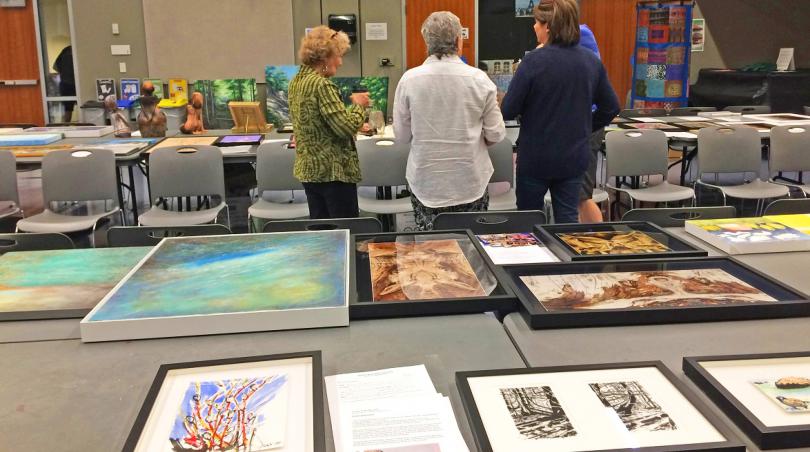 Calling all past and present artists on the North Shore, Sea-to-Sky corridor, Bowen Island & Sunshine Coast. The annual adjudication for the Ferry Building Gallery will be held on Sunday, September 29, 2019.
Selected artists' work will be scheduled for an exhibition at the Ferry Building Gallery in 2020 (in either a group show or solo exhibit, depending on the jury's decision).
Apply in-person or online.
Artist Requirements:
the artist must be a past or present resident of the North Shore, Bowen Island, Sunshine Coast or Sea-to-Sky corridor
the artist must not be exclusively represented by a commercial gallery in British Columbia
the artist must submit three finished / gallery-ready pieces of artwork
the artist must submit a portfolio with photographs of other works
the artist can include a short written concept or proposed theme of exhibition (optional)
the artist must include a curriculum vitae (biography)
the artist must pay a $20 jury fee
All mediums accepted. Preference will be given to those who have not had a solo exhibition at the Ferry Building Gallery, Silk Purse or Memorial Library in 2018 or 2019, and who have not shown at the Ferry Building Gallery, Silk Purse or Memorial Library in a group exhibition in 2019 (Harmony Arts Festival exhibitions and themed exhibitions are exempt). We cannot accept large scale installations.
Apply in-person
Drop-off: Sunday, September 29, 9–11 a.m. *no late entries accepted
Pick-up: 3–4 p.m. the same day
Location: West Vancouver Community Centre, Music Hall, 2121 Marine Drive (please use underground parking)
Jury fee is payable by cash, credit, debit or cheque for in-person entries
Apply online
Please click here to apply
Deadline: September 28 at midnight.
Results: artists will be notified on Tuesday, October 1 if they have been selected to participate 
Jury fee is payable online
For more information, contact: